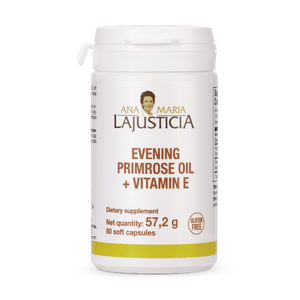 EVENING PRIMROSE OIL + VIT. E FOR 40 DAYS | 80 PEARLS
EVENING PRIMOSE OIL + VITAMIN E PEARLS 40 DAYS / 80 TABLETS
Food supplement with evening primrose oil and rich in vitamin E and polyunsaturated fatty acids. Vitamin E contributes to the protection of cells against oxidative damage. This plant, originally from North America and also grown in Europe, forms seeds that contain 25% oil, whose most precious quality is its richness in linoleic acid and also, in smaller quantities, in linolenic acid. That is, the fatty acids from which the organism forms the arachidonic acid, which in turn is the precursor of the prostacyclines that make blood compatible with the endothelium of the arteries. These polyunsaturated acids are also necessary in the composition of the cell membranes to which they provide elasticity.
DIRECTIONS
Daily dose of 2 beads (1.4 g): evening primrose oil 1000 mg, vitamin E 20 mg a-TE (167% NRV).
INGREDIENTS
Evening primrose oil (Oenothera biennis), gelatin, humectant (glycerin), D-alpha-tocopherol (vitamin E).
---
ACEITE ONAGRA + VITAMINA E PERLAS 40 días / 80 PERLAS
Complemento alimenticio con aceite de Onagra y rico en vitamina E y en ácidos grasos poliinsaturados. La vitamina E contribuye a la protección de las células frente al daño oxidativo. Esta planta originaria de América del Norte y que se da también en Europa, forma unas semillas que contienen un 25% de aceite, cuya cualidad más preciada es su riqueza en ácido linoleico y también, en menor cantidad, en ácido linolénico. Es decir, los ácidos grasos a partir de los cuales el organismo forma el araquidónico, que a su vez es el precursor de las prostaciclinas que hacen compatible la sangre con el endotelio de las arterias. Estos ácidos poliinsaturados son también necesarios en la composición de las membranas celulares a las que proporcionan elasticidad.
MODO DE EMPLEO 
Tomar 2 perlas al día, preferentemente por la mañana. Contenido medio por dosis diaria de 2 perlas (1,4 g): aceite de onagra 1000 mg, vitamina E 20 mg a-TE (167% VRN).
INGREDIENTES
Aceite de onagra (Oenothera biennis), gelatina, humectante (glicerina), D-alfa-tocoferol (vitamina E).
---
We Also Recommend