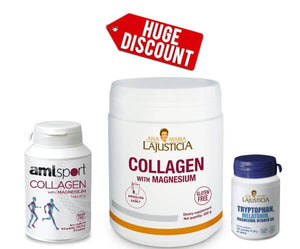 Promo Pack: Collagen with Magnesium & Tryptophan with Melatonin
We created a special pack for this month of June, your 3 favorite products all in one pack!
This pack contains:
- 1 Collagen with Magnesium (350g) Neutral Flavor: Keep your bones, muscles, joints, nails, and hair healthy!
- Tryptophan, Melatonin with Magnesium & Vit B6 (60 tablets): Better rest, better cognitive skills, more energy and helps you to be happier, what else do you need?
- AML Sport Collagen with Magnesium (270 Tablets): Our Collagen and Magnesium from AML Sport!
---
We Also Recommend