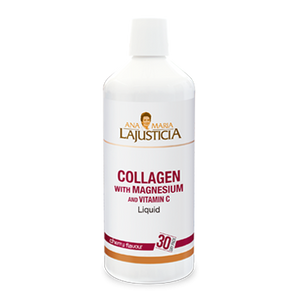 COLLAGEN WITH MAGNESIUM AND VITAMIN C LIQUID FOR 30 DAYS
COLLAGEN WITH MAGNESIUM AND VITAMIN C WITH CHERRY FLAVOUR | LIQUID 30 DAYS / 1000ml
Collagen is the most abundant protein in the human body and is a key constituent of cartilage, tendons and bones and is therefore required on a daily basis. All the connective tissue in our body and joints is made of collagen; its intake helps to counteract wear and ageing and to keep our joints, bones and skin healthy and us fit. We have added magnesium to this compound, which plays a key role in the formation of proteins such as collagen. Vitamin C is directly involved in the formation of proteins, meaning that it is necessary for the formation of tissues, as well as its antioxidant effect.
INDICATIONS
Osteoarthritis, osteoporosis, tendinitis, torn ligaments, and keeping tendons, bones and muscles in perfect condition. Deterioration of the skin, broken blood vessels (spontaneous bruising), hair loss and brittle nails.
DIRECTIONS
Take 30 ml or 45 ml per day, divided into two or three doses of 15 ml each. Take the doses at mealtimes. Use the measuring cup in the cap for correct measurement of the dose.
Average content per daily dose:
30 ml: hydrolysed collagen 3.6 g, magnesium 92.7 mg (25% NRV) and vitamin C 12 mg (15% NRV).
45 ml: hydrolysed collagen 5.4 g, magnesium 139 mg (37% NRV) and vitamin C 18 mg (23% NRV).
INGREDIENTS
Water, hydrolyzed collagen, magnesium citrate, preservative (glycerin), aroma (cherry), preservative (potassium sorbate), acidifier (citric acid), salt, L-ascorbic acid (vitamin C), aroma (rosemary), sweetener (glycosides ) of steviol), coloring (carmines), sweetener (sucralose). A hydrolyzed collagen base with easy assimilation.
---
COLÁGENO CON MAGNESIO Y VITAMINA C CON SABOR DE CEREZA | LÍQUIDO 30 DÍAS / 1000ml.
El Colágeno es la proteína más abundante en el cuerpo humano, siendo el constituyente esencial de los cartílagos, tendones, huesos y piel, por lo cual sus necesidades las tenemos a diario. Todo el tejido conectivo de nuestro cuerpo y articulaciones está formado por Colágeno, por lo que su aporte nos ayuda a regenerar su desgaste y envejecimiento, y a mantener en buen estado nuestras articulaciones, huesos, piel y a estar en forma. A este compuesto le hemos añadido Magnesio, que tiene un papel fundamental en la formación de las proteínas, como el colágeno. La Vitamina C interviene muy directamente en la formación de proteínas, por lo tanto, es necesaria para la formación de tejidos, aparte de su efecto antioxidante.
INDICACIONES
Artrosis, osteoporosis, tendinitis, rotura de ligamentos, mantenimiento en perfectas condiciones de tendones, huesos y músculos. Deterioro de la piel, rotura de vasos sanguíneos (hematomas espontáneos), caída del cabello y uñas frágiles.
MODO DE EMPLEO 
Tomar 30 ml o 45 ml al día repartidos, en dos o tres dosis de 15 ml cada una. Ingerir las dosis en las principales comidas. Utilice el vasito dosificador que se encuentra insertado en el tapón para una correcta cuantificación de las dosis.
Contenidos medios por dosis diaria de:
30 ml: colágeno hidrolizado 3,6 g, magnesio 92,7 mg (25% VRN) y vitamina C 12 mg (15% VRN).
45 ml: colágeno hidrolizado 5,4 g, magnesio 139 mg (37% VRN) y vitamina C 18 mg (23% VRN).
INGREDIENTES
Agua, colágeno hidrolizado, citrato de magnesio, conservador (glicerina), aroma (cereza), conservador (sorbato potásico), acidulante (ácido cítrico), sal, ácido L- ascórbico (vitamina C), aroma (romero), edulcorante (glucósidos de esteviol), colorante (carmines), edulco- rante (sucralosa). A base de colágeno hidrolizado de fácil asmiliación.
---
We Also Recommend