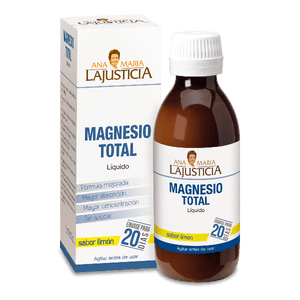 MAGNESIUM TOTAL LIQUID FOR 20 DAYS | LEMON FLAVOUR
MAGNESIUM TOTAL LIQUID 20 DAYS / 200 ml | LEMON FLAVOUR
Magnesium helps decrease tiredness and fatigue. Magnesium contributes to electrolyte balance, normal energy metabolism, and the normal function of the nervous system and muscles. Furthermore, magnesium contributes to normal protein synthesis, normal psychological function, and the maintenance of bones and teeth under normal conditions. It also contributes to the process of cell division.
DIRECTIONS
Take one tablespoon a day (10 ml). Average content per daily dose of 1 tablespoon (10 ml): magnesium 335 mg (89% NRV *).
INGREDIENTS
Water, magnesium carbonate, magnesium hydroxide, magnesium glycerophosphate, magnesium lactate, preservative (glycerin), natural lemon flavoring, sweetener (steviol glycosides).
---
MAGNESIO TOTAL LÍQUIDO 20 DÍAS | SABOR LIMON
El magnesio ayuda a disminuir el cansancio y la fatiga. El magnesio contribuye al equilibrio electrolítico, al metabolismo energético normal y al funcionamiento normal del sistema nervioso y de los músculos. Además, el magnesio contribuye a la síntesis proteica normal, a la función psicológica normal y al mantenimiento de los huesos y dientes en condiciones normales. También contribuye al proceso de división celular.
MODO DE EMPLEO 
Tomar una cucharada sopera al día (10 ml). Contenido medio por dosis diaria de 1 cucharada sopera (10 ml): magnesio 335 mg (89% VRN*). 
INGREDIENTES
Agua, carbonato de magnesio, hidróxido de magnesio, glicerofosfato de magnesio, lactato de magnesio, conservador (glicerina), aroma natural de limón, edulcorante (glucósidos de esteviol).
---
We Also Recommend