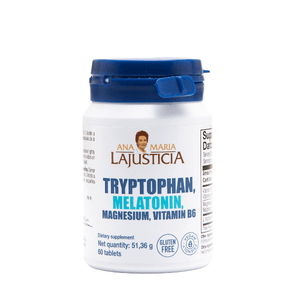 TRYPTOPHAN WITH MELATONIN, MAGNESIUM AND VITAMIN B6
TRYPTOPHAN WITH MELATONIN, MAGNESIUM AND VITAMIN B6 | 30 DAYS / 60 TABLETS
Tryptophan with Melatonin + Magnesium and Vitamin B6 is a dietary supplement that helps to improve the resting and the natural circadian rhythm of the body and the mind. This is an ideal combination for resting as it is not only a direct source of exogenous melatonin but also when combined with tryptophan, magnesium and vitamin B6, the synthesis of endogenous serotonin and melatonin is stimulated. In addition, melatonin stimulates the production of growth hormone and has antioxidant and neuroprotective properties. It improves the quality of sleep and strengthens the immune system. Magnesium and vitamin B6 help to the recovery and the rest of the neuromuscular system, reducing contractures and relaxing the muscles.
INDICATIONS
Indicated in situations of insomnia, jet lag, parade schedules, irritability and fatigue. Also indicated for people who want a substitute supplement to a sedative medicine.
DIRECTIONS
Take 1 to 2 tablets a day after dinner. Average content per daily dose of:
1 tablet (0.85 g): L-tryptophan 300 mg, melatonin 0.9 mg, magnesium 79.5 mg (21% NRV) and vitamin B6 0.7 mg (50% NRV).
2 tablets (1.7 g): L-tryptophan 600 mg, melatonin 1.8 mg, magnesium 159 mg (42% NRV) and vitamin B6 1.4 mg (100% NRV).
INGREDIENTS
Magnesium carbonate, L-tryptophan, bulking agent (microcrystalline cellulose), anti-caking agent (magnesium salts of fatty acids), melatonin, pyridoxine hydrochloride (vitamin B6).
---
TRIPTÓFANO CON MELATONINA, MAGNESIO Y VITAMINA B6 | 30 DÍAS / 60 COMPRIMIDOS
El Triptófano con Melatonina + Magnesio y Vitamina B6 es un complemento alimenticio que contribuye a mejorar el descanso y el ritmo circadiano natural del cuerpo y de la mente. Es una combinación ideal para el descanso puesto que no solo es una fuente de aporte directo de melatonina exógena, sino que además al combinarlo con el triptófano, el magnesio y la vitamina B6 se estimula la síntesis de serotonina y melatonina endógena. Además, la melatonina también estimula la producción de la hormona del crecimiento, tiene propiedades antioxidantes y neuro protectoras. Mejora la calidad del sueño y refuerza el sistema inmunológico. La combinación con triptófano ayuda a la producción de ésta dentro del cuerpo. El magnesio y la vitamina B6 ayudan a la recuperación y el descanso neuromuscular, reduciendo contracturas y relajando los músculos para un descanso mayor.
INDICACIONES
Indicado en situaciones de insomnio, jet lag, desface horario, irritabilidad y cansancio. También indicado para personas que quieran un complemento substitutivo a un medicamento sedativo.
MODO DE EMPLEO 
Tomar de 1 a 2 comprimidos al día después de la cena. Contenidos medios por dosis diaria de:
1 comprimido (0,85 g): L-triptófano 300 mg, melatonina 0,9 mg, magnesio 79,5 mg (21% VRN) y vitamina B6 0,7 mg (50% VRN).
2 comprimidos (1,7 g): L-triptófano 600 mg, melatonina 1,8 mg, magnesio 159 mg (42% VRN) y vitamina B6 1,4 mg (100% VRN).
INGREDIENTES
Carbonato de magnesio, L-triptófano, agente de carga (celulosa microcristalina), antiaglomerante (sales magnésicas de ácidos grasos), melatonina, clorhidrato de piridoxina (vitamina B6).
---
We Also Recommend