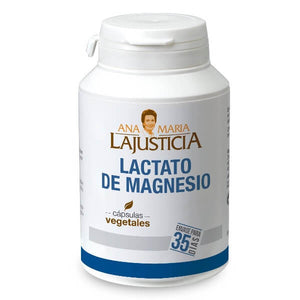 MAGNESIUM LACTATE FOR 35 DAYS
MAGNESIUM LACTATE FOR 35 DAYS / 109 TABLETS
Magnesium helps decrease tiredness and fatigue. Magnesium contributes to electrolyte balance, normal energy metabolism, and the normal function of the nervous system and muscles. Furthermore, magnesium contributes to normal protein synthesis, to normal psychological function and to the maintenance of bones and teeth in normal conditions. It also contributes to the process of cell division. Low laxative effect.
DIRECTIONS
Take 3 to 5 capsules a day, spread over the main meals.
INGREDIENTS
TABLETS: Magnesium lactate, capsule (hydroxypropyl methylcellulose), anti-caking agent (magnesium salts of fatty acids).
---
LACTATO DE MAGNESIO 35 días / 109 COMPRIMIDOS
El magnesio ayuda a disminuir el cansancio y la fatiga.El magnesio contribuye al equilibrio electrolítico, al metabolismo energético normal y al funcionamiento normal del sistema nervioso y de los músculos. Además, el magnesio contribuye a la síntesis proteica normal, a la función psicológica normal y al mantenimiento de los huesos y dientes en condiciones normales.También contribuye al proceso de división celular.Efecto laxante bajo.
MODO DE EMPLEO
Tomar de 3 a 5 cápsulas al día, repartidas en las principales comidas.
INGREDIENTES
Lactato de magnesio, cápsula (hidroxipropilmetilcelulosa), antiaglomerante (sales magnésicas de ácidos grasos).
---
We Also Recommend