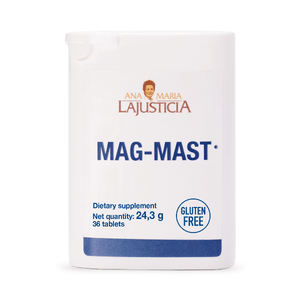 MAG-MAST FOR 18 DAYS
MAG-MAST FOR 18 DAYS / 54 TABLETS
Mag-Mast® is a natural antacid composed of magnesium carbonate with creamy aroma and without sugar. It has two main functions: it acts as a gastric antacid and provides magnesium naturally. Its presentation in pocket size is attractive, easy to carry and in a chewable format.
DIRECTIONS
Take 3 tablets a day, after the 3 main meals. Average content per daily dose of 3 tablets (2 g): 300 mg magnesium (80% NRV *).
INGREDIENTS
Magnesium carbonate (magnesium), glucose syrup, cream aroma, anti-caking agent (magnesium stearate), sweetener (steviol glycosides).
---
MAG-MAST 18 DÍAS / 54 COMPRIMIDOS
Mag-Mast® es un antiácido natural compuesto por carbonato de magnesio con aroma a nata y sin azúcar. Tiene dos funciones principales: actúa como antiácido gástrico y aporta magnesio de forma natural. Su presentación en tamaño "pocket" es atractiva, fácil de llevar y en formato masticable.
MODO DE EMPLEO
Tomar 3 comprimidos al día, después de las 3 principales comidas. Contenido medio por dosis diaria de 3 comprimidos (2 g): magnesio 300 mg (80% VRN*). 
INGREDIENTES
Carbonato de magnesio (magnesio), jarabe de glucosa, aroma de nata, antiaglomerante (estearato de magnesio), edulcorante (glucósidos de esteviol).
---
We Also Recommend