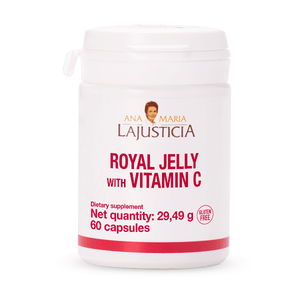 ROYAL JELLY WITH VITAMIN C FOR 30 DAYS
ROYAL JELLY WITH VITAMIN C 30 DAYS / 60 TABLETS
Combat tiredness, decay and lack of energy with Royal Jelly and revitalize your immune system with the additional contribution of Vitamin C, as it is antimicrobial. Royal Jelly with Vitamin C from Ana Maria Lajusticia® is the ideal compound for the normal functioning of the immune system. It acts as a restorative, fights seasonal asthenia and reduces tiredness and fatigue, among others.
DIRECTIONS
Take 2 capsules a day, preferably with breakfast, or divided between breakfast and lunch, with plenty of water.
 INGREDIENTS
Freeze-dried royal jelly, capsule (gelatin, colorants: iron oxides and hydroxides, titanium dioxide), corn starch, anti-caking agents (talc, silicon dioxide, magnesium salts of fatty acids), ascorbic acid (vitamin C).
---
JALEA REAL CON VITAMINA C 30 DÍAS / 60 CÁPSULAS
Combate el cansancio, el decaimiento y la falta de energía con la Jalea Real y revitaliza tu sistema inmunológico con el aporte adicional de Vitamina C, ya que es antimicrobiana. Jalea Real con Vitamina C de Ana Maria Lajusticia® es el compuesto ideal para el funcionamiento normal del sistema inmunitario. Actúa como reconstituyente, combate la astenia estacional y disminuye el cansancio y la fatiga, entre otros.
MODO DE EMPLEO 
Tomar 2 cápsulas al día, preferiblemente con el desayuno, o repartidas entre el desayuno y el almuerzo, con abundante agua.
INGREDIENTES
Jalea real liofi lizada, cápsula (gelatina, colorantes: óxidos e hidróxidos de hierro, dióxido de titanio), almidón de maíz, antiaglomerantes (talco, dióxido de silicio, sales magnésicas de ácidos grasos), ácido ascórbico (vitamina C).
---
We Also Recommend