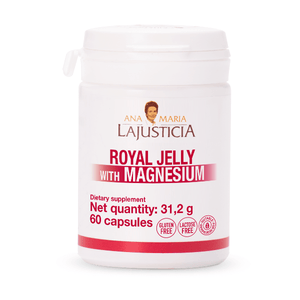 ROYAL JELLY WITH MAGNESIUM FOR 30 DAYS
ROYAL JELLY WITH MAGNESIUM 30 DAYS / 60 TABLETS
Royal Jelly with Magnesium from Ana Maria Lajusticia® provides the energy and vitality necessary for day-to-day life, reduces stress and improves mood. It is stimulating, revitalizing and increases physical and intellectual performance. Thanks to the additional contribution of Magnesium, it contributes to reducing tiredness and fatigue, to the normal functioning of the nervous system and to the maintenance of bones, muscles and teeth in normal conditions.
DIRECTIONS
Take 2 or 4 capsules a day, preferably in the morning.
INGREDIENTS
Magnesium carbonate, lyophilized royal jelly, capsule (hydroxypropylmethylcellulose, colorant: titanium dioxide), bulking agent (microcrystalline cellulose), anti-caking agents (magnesium salts of fatty acids, silicon dioxide).
---
JALEA REAL CON MAGNESIO 30 DÍAS / 60 CÁPSULAS
Jalea Real con Magnesio de Ana Maria Lajusticia® proporciona la energía y vitalidad necesarias para el día a día, reduce el estrés y mejora el estado de ánimo. Es estimulante, revitalizante y aumenta el rendimiento físico e intelectual. Gracias al aporte adicional de Magnesio contribuye a disminuir el cansancio y la fatiga, al funcionamiento normal del sistema nervioso y al al mantenimiento de los huesos, músculos y dientes en condiciones normales.
MODO DE EMPLEO 
Tomar 2 o 4 cápsulas al día, preferentemente por la mañana.
INGREDIENTES
Carbonato de magnesio, jalea real liofi lizada, cápsula (hidroxipropilmetilcelulosa, colorante: dióxido de titanio), agente de carga (celulosa microcristalina), antiaglomerantes (sales magnésicas de ácidos grasos, dióxido de silicio).
---
We Also Recommend