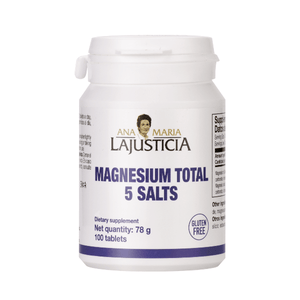 MAGNESIUM TOTAL 5 SALTS FOR 50 DAYS
MAGNESIUM TOTAL 5 SALTS FOR 50 DAYS / 100 TABLETS
Magnesium helps reduce tiredness and fatigue. Magnesium contributes to normal energy metabolism, normal protein synthesis and normal psychological function. Magnesium contributes to the normal functioning of the nervous system and muscles. Magnesium contributes to the maintenance of bones and teeth under normal conditions.
DIRECTIONS
Take 2 tablets a day, preferably at breakfast and dinner.
INGREDIENTS
TABLETS: filler (microcrystalline cellulose), magnesium oxide, magnesium bis-glycinate, magnesium carbonate, magnesium hydroxide, magnesium citrate, anti-caking agents (silicon dioxide, magnesium salts of fatty acids). Average content per daily dose of 2 tablets (1.56 g): Magnesium 369 mg (98% VRN *) * VRN: nutrient reference values
---
MAGNESIO TOTAL 5 SALES 50 DÍAS / 100 COMPRIMIDOS
El magnesio ayuda a disminuir el cansancio y la fatiga. El magnesio contribuye al metabolismo energético normal, a la síntesis proteica normal y a la función psicológica normal. El magnesio contribuye al funcionamiento normal del sistema nervioso y de los músculos. El magnesio contribuye al mantenimiento de los huesos y los dientes en condiciones normales.
MODO DE EMPLEO 
Tomar 2 comprimidos al día, preferiblemente en el desayuno y la cena.
INGREDIENTES
COMPRIMIDOS: agente de carga (celulosa microcristalina), óxido de magnesio, bisglicinato de magnesio, carbonato de magnesio, hidróxido de magnesio, citrato de magnesio, antiaglomerantes (dióxido de silicio, sales magnésicas de ácidos grasos). Contenidos medios por dosis diaria de 2 comprimidos (1,56 g): Magnesio 369 mg (98% VRN*) *VRN: valores de referencia de nutrientes
---
We Also Recommend