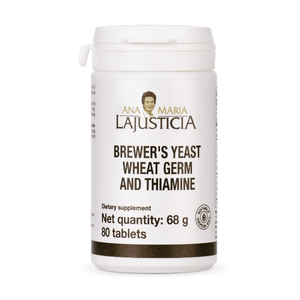 BREWER'S YEAST WITH WHEATGERM AND THIAMIN | 20 DAYS
BREWER'S YEAST WITH WHEATGERM AND THIAMIN 20 DAYS / 80 TABLETS
One of the richest sources of vitamins of group B and proteins of high biological value. It contains essential amino acids, essential for human life and necessary for the production of red and white blood cells. In addition to containing fiber, minerals and probiotics.
DIRECTIONS
4 to 8 tablets a day split between breakfast and dinner. 
Average content per daily dose of:
4 tablets (3.4 g): brewer's yeast 2 g, wheat germ 0.84 g, thiamine 0.25 mg (23% NRV *).
8 tablets (6.8 g): brewer's yeast 4 g, wheat germ 1.68 g, thiamine 0.50 mg (46% NRV *).
INGREDIENTS
BEER YEAST WITH WHEAT GERM AND THYAMINE: inactivated beer yeast powder (contains SULPHITES, BARLEY and WHEAT), WHEAT germ, bulking agent (microcrystalline cellulose), anti-caking agents (vegetable magnesium stearate and silicon dioxide), hydrochloride of thiamin (B1 thiamine), nicotinic acid (B3 niacin), B2 riboflavin.
---
LEVADURA DE CERVEZA CON GERMEN DE TRIGO Y TIAMINA 20 DÍAS / 80 COMPRIMIDOS
Una de las fuentes más ricas en vitaminas del grupo B y en proteínas de alto valor biológico. Contiene aminoácidos esenciales, indispensables para la vida humana y necesarios para la producción de los glóbulos rojos y blancos. Además de contener fibra, minerales y probióticos.
MODO DE EMPLEO 
Tomar de 4 a 8 comprimidos al día, repartidos en el desayuno y la cena. 
Contenido medio por dosis diaria de:
4 comprimidos (3,4 g):levadura de cerveza 2 g, germen de trigo 0,84 g, tiamina 0,25 mg (23 % VRN*).
8 comprimidos (6,8 g): levadura de cerveza 4 g, germen de trigo 1,68 g, tiamina 0,50 mg (46% VRN*).
INGREDIENTES
LEVADURA DE CERVEZA CON GERMEN DE TRIGO Y TIAMINA: levadura de cerveza inactivada en polvo (contiene SULFITOS, CEBADA y TRIGO), germen de TRIGO, agente de carga (celulosa microcristalina), antiaglomerantes (estearato de magnesio vegetal y dióxido de silicio), clorhidrato de tiamina (B1 tiamina), ácido nicotínico (B3 niacina), B2 riboflavina.
---
We Also Recommend