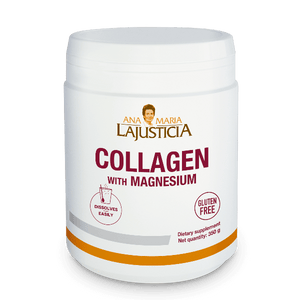 COLLAGEN WITH MAGNESIUM | POWDER, NEUTRAL TASTE
COLLAGEN WITH MAGNESIUM | POWDER WITH NEUTRAL FLAVOUR FOR 46 DAYS / 350 GRAMS
Collagen is the most abundant protein in the human body and is a key constituent of cartilage, tendons and bones and is therefore required on a daily basis. All the connective tissue in our body and joints is made of collagen; its intake helps to counteract wear and ageing and to keep our joints, bones and skin healthy and us fit. We have added magnesium, an element that is actively involved in the formation of all the proteins in the body. It also contributes to normal muscle function. Skin needs collagen for maintenance to delay the appearance of wrinkles. Healthy hair needs collagen. Strong healthy nails need collagen.
INDICATIONS
Osteoarthritis, osteoporosis, tendinitis, torn ligaments, and keeping tendons, bones and muscles in perfect condition. Deterioration of the skin, broken blood vessels (spontaneous bruising), hair loss and brittle nails.
DIRECTIONS
Take 3 dessertspoonfuls a day, with meals. It can be taken with liquid and with puréed fruit, yoghurt, etc. Take with foods rich in vitamin C.
Average content per daily dose of 3 dessert spoonfuls (7.5 g): hydrolysed collagen 5.2 g, magnesium 241 mg (64% NRV).
INGREDIENTS
POWDER: Hydrolyzed Collagen, neutral taste, magnesium carbonate, anti-caking agent (magnesium sales of fatty acids). A hydrolyzed collagen base with easy assimilation.
---
COLÁGENO CON MAGNESIO | EN POLVO Y SABOR NEUTRO 46 DÍAS / 350 GRAMOS
El colágeno es la proteína más abundante en el cuerpo humano, siendo el constituyente esencial de los cartílagos, tendones y huesos, por lo cual sus necesidades las tenemos a diario. Todo el tejido conectivo de nuestro cuerpo y articulaciones está formado por colágeno, por lo que su aporte nos ayuda a regenerar su desgaste y envejecimiento, y a mantener en buen estado nuestras articulaciones, huesos, piel y a estar en forma. A este compuesto le hemos añadido Magnesio que es un elemento que participa muy activamente en la formación de todas las proteínas del organismo. Así mismo, su aporte adicional contribuye al funcionamiento normal de los músculos. La piel requiere colágeno para su mantenimiento y para retrasar la aparición de arrugas. El cabello necesita, para estar saludable, unos buenos aportes de colágeno. Las uñas para estar fuertes y sanas necesitan poder disponer de colágeno.
INDICACIONES
Artrosis, osteoporosis, tendinitis, rotura de ligamentos, mantenimiento en Perfectas condiciones de tendones, huesos y músculos. Deterioro de la piel, rotura de vasos sanguíneos (hematomas espontáneos), caída del cabello y uñas frágiles.
MODO DE EMPLEO 
Tomar 3 cucharaditas de postre al día, repartidas en las principales comidas. Puede tomarse con líquidos y también con purés de frutas, yogur, etc. Se recomienda ingerir cada cucharadita junto con alimentos ricos en vitamina C.
Contenidos medios por dosis diaria de 3 cucha- raditas de postre (7,5 g): colágeno hidrolizado 5,2 g, magnesio 241 mg (64% VRN) .
INGREDIENTES
EN POLVO: Colágeno hidrolizado, aroma natural, carbonato de magnesio, antiaglomerante (sales magnésicas de ácidos grasos). A base de colágeno hidrolizado de fácil asmiliación.
---
We Also Recommend