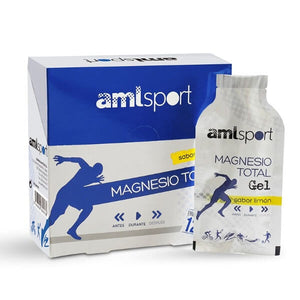 MAGNESIUM TOTAL GEL (12 UNITS)
MAGNESIUM TOTAL GEL (12 UNITS)
Magnesium contributes to the normal maintenance of the bones, to the normal functioning of the muscles, and helps to reduce tiredness and fatigue. In addition, magnesium contributes to normal energy metabolism, to the normal functioning of the nervous system, to electrolyte balance, to normal protein synthesis, to normal psychological function and to the process of cell division. Food supplements do not substitute a varied and balanced diet or a healthy lifestyle. Reformulated to improve the bioavailability and absorption, adding two salts (citrate and magnesium gluconate) of high assimilation and thus improve the athlete's performance, recovery and avoid injuries.
INDICATIONS
For use before and/or during physical exercise to help reduce cramps, twitches and contractures. Helps maintain normal electrolyte balance and muscle relaxation.
DIRECTIONS
Take 2 sachets (20ml) before or during the practice of physical exercise.
INGREDIENTS
1 drinkable sachet (20ml) provides 50% of the Magnesium NRV. 
---
MAGNESIO TOTAL GEL (12 UNIDADES)
El Magnesio contribuye al mantenimiento normal de los huesos, al funcionamiento normal de los músculos, y ayuda a disminuir el cansancio y la fatiga. Además, el magnesio contribuye al metabolismo energético normal, al funcionamiento normal del sistema nervioso, al equilibrio electrolítico, a la síntesis proteica normal, a la función psicológica normal y al proceso de división celular. Los complementos alimenticios no sustituyen una dieta variada y equilibrada ni un estilo de vida saludable. Reformulado para mejorar la biodisponiblidad y absorción, añadiendo dos sales (citrato y gluconato de Magnesio) de alta asimilación y así mejorar el rendimiento del deportista, su recuperación y evitar lesiones.
INDICACIONES
Para usar antes y / o durante el ejercicio físico para ayudar a reducir calambres, espasmos y contracturas. Ayuda a mantener el equilibrio electrolítico normal y la relajación muscular.
MODO DE EMPLEO 
Tomar 2 sobres bebibles (20ml) antes o durante la práctica del ejercicio físico. 
INGREDIENTES
1 sobre  bebible  (20ml) aporta el 50% de las VRN de Magnesio.
---
We Also Recommend